Eden Local Plan Partial Review
Eden declared a climate and biodiversity emergency in 2019. The Council aims to become carbon neutral by 2030. This is an ambitious, but necessary, target in order to tackle climate change and help protect biodiversity. To make a difference it is important to take action on many fronts. The Local Plan Partial Review is one action that we decided to undertake to start making a difference. This is because the policies in the adopted Eden Local Plan 2014 to 2032 (ELP) do not do enough to protect against climate change and ensure new development is of a high quality design.
We are currently at the very early stages of the Partial Review. We are working on evidence gathering and the scoping of key issues and intend to consult on a publication version of the Local Plan Partial Review in early 2022. Once adopted (hopefully in Spring 2023), the Partial Review will replace parts of the current ELP.
As we prepare evidence base studies and reports they will be added to the evidence section of our web page.
We have recently revised the timetable for the Local Plan Partial Review and this is set out in an updated Local Development Scheme (PDF 491Kb / 20 pages).
Regulation 18 Scoping Consultation
Local Plans must be prepared in stages set out in law. Regulation 18 marks the start of public engagement for the Partial Review and represents the scoping stage to decide what aspects of climate change and design the new policies should focus on.
Regulation 18 of the Town and Country Planning (Local Planning) Regulations 2012 requires that various bodies and stakeholders be notified that the Council is preparing a plan. It also invites them to comment on what the policies in that plan ought to focus on.
The six-week public consultation is taking place from Friday 25 June to 12 noon on Monday 9 August 2021, after which time the consultation will close.
See Regulation 18 scoping consultation letter (PDF: 404 Kb / 2 pages).
Comments are invited by:
While we would prefer to hear from you in one of the above two ways, if you require the survey in an alternative format, please contact planning policy on the details below.
Consultation frequently asked questions
Read the answers to ELP review frequently asked questions about the consultation process and what will happen next.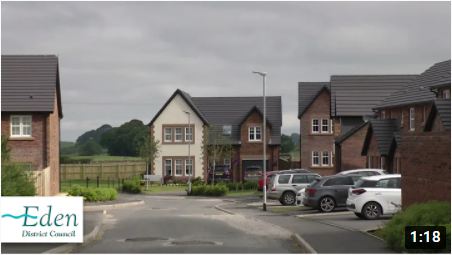 View Eden Local Plan Partial Review Consultation - What is the Partial Review about? on YouTube.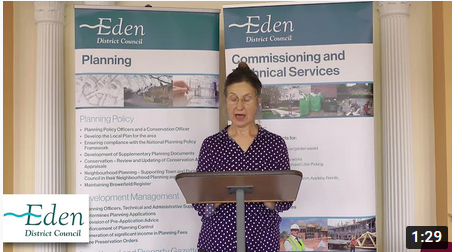 View Eden Local Plan Partial Review Consultation - How long are you consulting and how can I respond? on YouTube.
View Eden Local Plan Partial Review Consultation - Will my opinion matter and what happens to my feedback? on YouTube.
View Eden Local Plan Partial Review Consultation - What are the next steps? on YouTube.
View Eden Local Plan Partial Review Consultation - When will the Council adopt the Partial Review? on YouTube.
View Eden Local Plan Partial Review Consultation - Who do I contact with questions? on YouTube.
Following the close of the consultation, all responses will be considered and a Consultation Response will be prepared and published. All demographic and contact data will be removed. All data is processed in accordance with the Data Protection Act 2018. The consultation responses will be used to inform the next stages of the Local Plan Review.
There will be an opportunity to make formal comments and representations on the draft Final Local Plan Review which we hope to publish (under Regulation 19) in early 2022.
Keep informed
Register online for Planning Policy consultations if you would like to be notified of forthcoming consultations on the Local Plan Review or any other planning consultations.
Asking questions about the consultation
Please email the Planning Policy team with your question using the email address below. By emailing it enables us to queue your enquiry appropriately so we can consider and respond most effectively. If you do need to talk to us urgently please telephone using the number below. However, please bear in mind that we are likely to be extremely busy during the consultation period and will contact you as soon as we are able.
Last updated: Friday, 23 July, 2021.