On-street parking and disc zones
What is disc zone parking?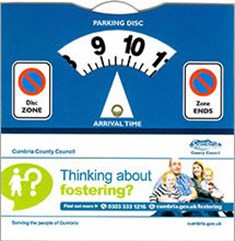 The Disc Parking Scheme is in operation throughout Cumbria. It gives drivers the opportunity to locate a short-stay parking space, close to shops and the town centre facilities, while encouraging the rapid turnover of available parking spaces.
Disc Zones offer free, time-limited, on-street parking in Eden.
What to do when parking in a disc zone:
Display the disc clearly on the vehicle windscreen showing the correct time of arrival.
Check the disc zone signs - times allowed vary: 30 minutes, 1, 2, or 3 hours.
Ensure you return within the time limit to avoid receiving a Penalty Charge Notice.
Where can I get a parking disc from?
Clock discs can be obtained free of charge from shops in the town centre displaying a parking poster. Alternatively, discs can be posted to you, prior to your visit, by the Penrith Tourist Information Centre, telephone: 01768 867466, or email customer.services@eden.gov.uk.
Parking disc zones affected by market days
Appleby Boroughgate car park: Every Saturday
The disc zone in Boroughgate (between Low Cross and the Moot Hall) also becomes a market site and general parking will not be available from 8am to 6pm.