Car parking season ticket
The car parking season ticket scheme is aimed at commuters.
How do I apply for a car parking season ticket?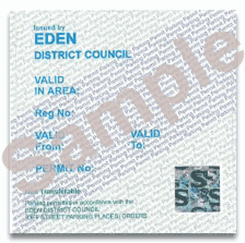 Decide whether you want a season ticket for six months, or twelve months, then either:
Telephone 0300 373 3300 and pay for your car parking season ticket over the telephone with a credit or debit card

Call in at the Town Hall, Penrith, and pay for your car parking season ticket with a credit, debit card or cheque made payable to Westmorland and Furness Council. Write your car registration number and 'Penrith parking' on the back of your cheque.
Is there a waiting list for car parking season tickets?
Yes, due to the number of season tickets available, there is a waiting list for tickets for Penrith car parks. There is no waiting list for season tickets in Appleby.
How to renew a car parking season ticket
Please telephone, or visit Penrith Town Hall, to renew your car parking season ticket. We will email a reminder to renew your season ticket. If you do not renew your ticket, it may be reallocated to someone on the waiting list.
Season ticket holders are required to park in accordance with our current Parking Orders.
Where will a season ticket allow me to park?
Appleby parking season ticket
An Appleby parking season ticket will let you park in Broad Close car park, Appleby.
Penrith parking season ticket
A Penrith parking season ticket will let you park in one of the following car parks:
Bluebell Lane
Mansion House
Penrith Leisure Centre
Sandgate
Drovers Lane
How long can I park for with a season ticket?
You can park for the maximum amount of time that the car park your season ticket is for allows. For more information see Appleby car parks or Penrith car parks.
Can I use my season ticket to park in any of the car parks?
No, car parking season tickets can only be used for the car park shown on the windscreen sticker and under the terms and conditions of the season ticket your have purchased.
How much will a car parking season ticket cost?
The cost for a car parking season ticket in Penrith is:

£330 for 12months
£176 for 6 months
The costs for a car parking season ticket in Appleby is:
£203.50 for 12 months
£115.50 for 6 months
How are car parking season tickets allocated?
Season tickets are issued on a 'first come, first served' basis. If the full allocation of tickets has already been issued, your application will be placed on a reserve list and you will be contacted if a ticket becomes available. There is no automatic right to renew existing season tickets.
Will I have a designated car parking space?
No, there are no designated parking spaces for season ticket holders and no guarantee can be made that a space will always be available.
What if I no longer need my car parking season ticket?
Season ticket holders may relinquish unused whole months at any time. Following the return of the old ticket, a refund will be paid to the ticket holder. Please note there will be an administrative charge of £10.
How many vehicles can I use my car parking season ticket for?
A season ticket can be used for up to two vehicle registrations listed on the application form and windscreen sticker.
What happens if I change my car?
Season ticket holders should tell us straight away if their vehicle registration changes. They should return their car parking season ticket with the incorrect vehicle registration to the address below. A new season ticket, with the amended details, will be forwarded free of charge. If a season ticket holder's vehicle is off the road and a courtesy car is being used, the ticket may be transferred, but we must be informed.

Last updated: Tuesday, 16 May, 2023.