Percy Toplis
Percy Toplis 'The monocled mutineer'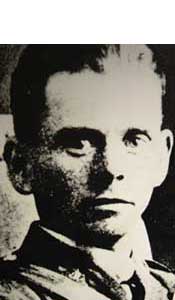 text © Eden District Council (Penrith Museum) 2004
Francis Percy Toplis was born at Sanforth Street, Chesterfield, on 22 August 1896. He was the son of Herbert and Rejoice Elizabeth Toplis (née Webster). His family life was not easy. His father had a succession of poorly paid jobs. He often had to stay with relatives, usually in the Mansfield area.
Employment and crime
His first conviction was on 6 March 1908. Mansfield Petty Sessions sentenced him to six strokes of the birch for obtaining two suits of clothes by false pretences. His failure to appear again when summoned six months later led his grandfather to plead 'his grandmother cannot do with him any longer as he is out of her control'. His parents also seemed to disown him. He went to live with his aunt Annie Webster, at Colliery Row, Blackwell.
On leaving school in 1909, he became a blacksmith at Blackwell Colliery. He did not find the work to his liking. He was dismissed after being found drinking in the Blackwell Arms. He should have been on night shift.
He progressed to what seemed to suit him best, travel and petty crime. This came to an end in April 1912,. Lincoln Assizes imposed two years' hard labour for the attempted rape of a fifteen year old girl.
First World War
In August 1914, after release from prison, he joined the Royal Army Medical Corps (RAMC). He served with 'B' section, 39 field ambulance at Torquay. This was until 17 June 1915 when they became part of the force sent to Gallipoli. Overall conditions were horrific, particularly during the major August offensives. Although wounded and badly effected by dysentery, Toplis, along with many others, was not evacuated until the end of that ill-fated campaign.
After UK hospitalisation he was given light work in a munitions factory at Gretna. This was before being posted to trooping duties in Salonika and Egypt. He developed malaria, possibly a result of Gallipoli and had to be shipped home. September 1917 saw him seconded to the troop-ship Orantes, en-route for India. He remained in Bombay for several months. Back in the UK he went to RAMC Blackpool, from which he deserted shortly after the death of his father in August 1918. Fraud offences resulted in Nottingham Assizes imposing a second term of imprisonment in November 1918. Following release in 1920, and still a deserter (the end of the Great War seems to have waned Army interest in such matters) he joined the Royal Army Service Corps (RASC). As part of No. 2 Depot Motor Transport (Bulford), he became heavily involved in the black market sale of Army petrol.
Murder
On Saturday 24 April 1920, around 9.45pm, Sidney George Spicer, a taxi driver, was shot dead on Thruxton Down, near Andover. At 11pm, Toplis was seen alone in the car on Bulford Camp, immediately prior to deserting again. He was now wanted for murder
Read more about the murder on Hampshire Constabulary History Society website.
Toplis then spent a fortnight or so masquerading among London society as a decorated Army officer of landed descent. Continued press coverage of the Andover Murder, and the level of police activity to effect his arrest, led 23 year old Toplis to seek isolation in the north east of Scotland. All went well until an unusual spell of cold weather caused him to light a fire in a remote gamekeeper's bothy. On June 1, smoke from it was seen by a hill farmer checking stock. He returned with the gamekeeper and the Tomintoul Constable, George Greig, at 1 pm. Unable to talk his way out, Toplis drew a revolver and fired several shots. He wounded the policeman in the shoulder and the farmer in the stomach. He then made off on a bicycle. He abandoned the bicycle at Aberdeen, and travelled south by rail, arriving in Carlisle on Saturday, June 5, in the afternoon. There he had the audacity to seek refreshment from the army occupying the Castle.
The final hours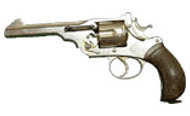 At 4pm on Sunday, 6 June 1920, PC72 Alfred Isaac Fulton of the Cumberland and Westmorland Constabulary questioned a man in partial military dress sitting by the side of the Carlisle to Penrith road at Low Hesket. Not altogether satisfied, he returned to his station and checked police circulars. Convinced this was the man wanted for the Andover Murder, he went back and found him changing into civilian clothes in a wood further down the road. Realising why the officer had returned, Toplis drew a revolver and menacingly identified himself. Constable Fulton managed to safely withdraw, return home, change into civilian clothes and ride south on his motorcycle to report the matter to his superiors in Penrith.
The Police Station at that time being also Force Headquarters. Inspector William Ritchie and Sergeant 24 Robert Lewis Bertram were issued with .45 Webley Mark VI revolvers and six rounds of ammunition. They were ordered to disguise uniform and accompany PC Fulton in a chauffeur driven car borrowed from the Crown Hotel.
Driving out of Penrith they were joined by the Chief Constable's son, Norman de Courcy-Parry. He was there without his father's permission, on his motorcycle and armed with a small automatic Belgian pistol. They passed Toplis walking south toward Plumpton continuing until out of sight before turning round. De Courcy-Parry was the first to return, feigning breakdown ahead of Toplis. He noted one hand gripping the butt of a gun concealed in a coat pocket as he drew alongside - information which he did his best to silently convey to the car as it returned some minutes later.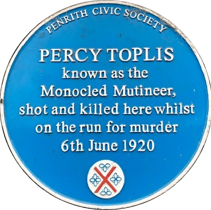 Farther down the road, the three officers took cover behind farm buildings at Romanway. Toplis approached and was challenged by Inspector Ritchie. He began to run south, turning to shoot at the pursuing police who fired three shots in return, one of which proved fatal.
Penrith Civic Society installed a plaque on the wall on Romanway Farm, near Plumpton in memory of Percy Toplis in November 2015.
Toplis, was buried in Penrith's Beacon Edge Cemetery, at 9am on Wednesday 9 June, by the Penrith Board of Guardians. They were a charitable organisation responsible for such matters. The only witnesses were the gravedigger, one Board of Guardians representative, two senior police officers, and the Rev R H law, Vicar of Christ Church, who despite strong opposition, insisted Toplis was entitled to a full Christian burial. He stated "This man was violently removed from this life before he could be judged on earth."
To offset the cost of his pauper's burial his belongings, including his monocle, were handed to the Penrith Board of Guardians. The Relieving Officer, Councillor Johnstone was also a member of the Penrith Urban District Council Historical Committee. It was he who considered that, rather than be sold, it should be given to Penrith Museum.
The inquest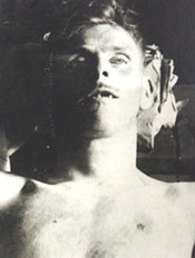 At the Inquest in Penrith Town Hall on Tuesday 8 June, 1920 the Coroner, Colonel Frederick William Halton, told the jury "Where an arrest is resisted with such force that it was necessary in self-defence to kill, it becomes justifiable homicide". They jury had to determine whether or not the police had acted correctly. Within three minutes they returned the verdict "Toplis was justifiably killed by a revolver bullet fired by a police officer in the execution of his duty". They recommended that all three officers should be honoured for their courageous action.
Who shot Toplis?
This is the subject of heated debate. Norman de Courcy-Parry is often held to have been responsible. The official archive does little to support the theory. The incident was already unfolding as he arrived from the north, with Toplis some distance away, and the police officers in his line of fire. Any shot from his small Belgian pistol could well have found the wrong target. Ritchie was nearest and actually caught Toplis as he was falling, and though armed had little firearm experience. Bertram had seen active war-time service. He was right behind Ritchie and close to the target. Some believe he is the more likely candidate.
Fact or fiction?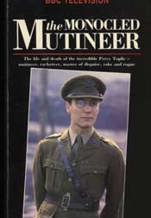 In 1986, Alan Bleasdale adapted the book 'The Monocled Mutineer' for the television. This cast Percy Toplis once more as hero of the riot which broke out among British troops, in September 1917, during the First World War, near Etaples, in France. However, a researcher soon distanced himself from the BBC's production alleging 'serious inaccuracies'. The service record of Toplis, of 'monocle' fame, reveals in fact that he was nowhere near France at the time of the incident but aboard the 'Orantes' en route from Devonport to India. A soldier who witnessed the Etaples incident at first hand noted 'Never once did I see or hear any reference to Toplis'. His further comment that 'he was in the Air Force whose depot was at le Havre over 40 miles away' flags up the probable cause of the confusion. There were three men called Percy Toplis from the Midlands recorded as having served in the First World War. The play clearly projected a romantic image of a 'working class hero' at odds with overbearing authority, but with respect to the life of the Percy Toplis who was shot near Penrith, it was pure fiction.
Last updated: Thursday, 22 September, 2022.