Local personalities
Find out more about Penrith and Eden's influential and noteworthy people!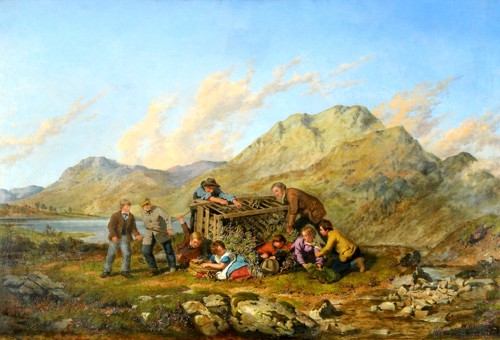 Penrith Artist Jacob Thompson (1806 to 1879)
Jacob's early life
Jacob Thompson was born in Langton Street, Penrith. He was the eldest son of the Quaker factory owner Merrick Thompson whose father had built Factory Yard in Friargate. Merrick's successful and prosperous weaving business collapsed when Jacob was six years old. This left the family financially ruined. A sickly child, he was cared for by his devoted nurse Hannah Hewitson. Hannah bought him his first box of colours and helped to secure him a place in the Free Grammar School in the town.
Parental opposition
Jacob's early enthusiasm for drawing met with no encouragement from his traditional Quaker parents. They considered 'Art' a vanity. After leaving school he was sent to work for a local grocer, Joseph Drewry. He disliked the employment intensely. His parents finally relented, apprenticing him to a 'coach, house, sign and ornamental painter and gilder'. Jacob left after two years and started out in business on his own, painting signboards and furniture.
Animal, coach and sign painter
He soon acquired a reputation as an artist. He received commissions for portraits of horses, dogs and cattle and exhibited at the Carlisle Academy of Art. His true interest was in landscape painting. He found inspiration on his many fishing trips along the banks of the Rivers Lowther and Eamont. It was during one of his evening rambles along the Eamont that he first met William Wordsworth's friend, Thomas Wilkinson, of Yanwath. He was a writer and anti-slavery campaigner. Wilkinson gave him his first job painting name boards for a couple of carts and helped spread the word of Jacob's skill.
Patronage and training
Later, as he was painting by the River Lowther, Jacob met the man who determined much of the rest of his career, William, Earl of Lonsdale, of nearby Lowther Castle. Lord Lonsdale was tremendously influential, becoming Jacob's patron and helping to secure him a place at the Royal Academy Schools in London.
Portrait painter in London
From 1831 Jacob began exhibiting at the Royal Academy and at the British Institution the following year. He devoted the next ten years to portraiture and to painting views of country mansions for the nobility and aristocracy or making copies of their pictures. With a studio in Hanover Square his career flourished. He received commissions for well over two hundred portraits. Though the portraits and the copies consolidated his professional reputation, he thought of them as 'pot-boilers' done for daily bread. Jacob felt that there was 'a far higher and nobler aim in art'. He yearned to produce pictures in which his imagination could have free scope.
Marriage and return to Penrith
In August 1834 Jacob married Ann Parker Bidder. The couple left London to live for a short while in Luton and then at Rose Cottage in Hitchin, Hertfordshire. This is where his first and only child was born. In 1841 the family returned to Cumbria, settling at the Hermitage in Hackthorpe near Penrith. This was a cottage on the estate of his patron and friend Lord Lonsdale. Here he spent the remainder of his life, though he travelled away on painting trips most years, often to Scotland.
Landscape and narrative paintings
At the Hermitage, having achieved a measure of financial security, he was able to concentrate on painting the type of work which suited his taste and by which he is best remembered, large-scale landscapes with figures such as The Highland Ferry Boat or The Rush Bearers. Often his paintings 'told a story' or 'pointed a moral'. His biographer Llewellynn Jewitt noted that they were 'remarkable for ... richness, beauty, and Pre-Raphaelite truthfulness to nature'. By the end of his career he could charge large sums of money for his paintings, many of which were reproduced as engravings and enjoyed substantial sales.
A later marriage and final years
Jacob's wife Ann died in 1844. After remaining a widow for some years he married, in 1850, Elizabeth Varty, daughter of Jonathan Varty of Stagstones, Penrith. Jacob Thompson died at the Hermitage in December 1879. He was buried in Lowther Churchyard. A gentle, modest and unassuming man, he once wrote to a friend: I sometimes wish I was nearer London that I might see more of the Art-World ... but when I begin to think of the short days, the dense fogs, the dirty streets, the bickerings, the jealousies, and the utter worthlessness of that society which too often sacrifices comfort for outward appearances ... I sit down feeling thankful that I am far, far away from such scenes.
Penrith's Crimea War Hero Trooper William Pearson
Penrith Museum owns the medals and other memorabilia of William Pearson (1826-1909), the Crimea War survivor. The town has done much to ensure that the man and his bravery should not be forgotten. As long ago as 1894 townsfolk marked the 40th anniversary of the "Charge of the Light Brigade" by acquiring a life size photograph of Pearson, who was then still alive. Still in its elaborate frame it is now owned by the Museum. He has the distinction of having a corner of the town named after him 'Pearson Court'. A plaque is affixed to the property in King Street, formerly the Mitre Hotel, where he was born in 1826. He was brought up in North Westmorland and was a leather dresser before running away to enlist in the 4th Light Dragoons in 1848, at Westminster. He was serving in Ireland when the regiment received orders for the Crimea.
During the Charge of the Light Brigade at Balaclava his horse stumbled over another that had fallen and he had to mount a rider-less horse of the 8th Hussars. He had an epaulette shot from his shoulder and returned from the affair with a wound to his forehead. The severe Crimean winter left Pearson with frost-bite. He spent Christmas Eve 1854 having four toes amputated. He was nursed by Florence Nightingale at the hospital in Scutari before being invalided home.
He was presented before Queen Victoria in 1855. He was discharged as unfit for further military service, with a pension of 8d a day. This was later increased to 12s a week by the Royal Patriotic Fund. He received the Crimea Medal (with clasps for Alma, Balaclava, Inkerman and Sebastopol), the Turkish Medal, and he also had a Good Conduct Badge.
He met his wife at a ball in honour of the Crimean heroes held at Dover. They returned to Penrith, where Trooper Pearson became Inspecting Officer's Orderly to the Dalemain Troop, Cumberland and Westmorland Imperial Yeomanry. In 1880 he moved to Underbarrow, near Kendal, where he set up a fellmongering and tanning business. He retired in 1906, and died in July 1909, aged 82. He was buried with military honours in Parkside Cemetery, Kendal.
William Jameson Champion Wrestler of England
Jameson, was described as 'One of the most noted athletes of the North and for many years Champion Wrestler of England'. A native of Penrith, he was a joiner by trade and later proprietor of the Griffin Inn in Cornmarket.
He was a big man, scaling up to 17 stones, yet so light on his feet that he excelled, not only as a wrestler by virtue of his great weight and strength, but also as a runner and jumper. In the long leap, and pole leap, being reputed to have cleared the bar both ways at 10 feet 3 inches with the pole. As a wrestler, his recorded major wins were in 1858 at the Talkin Tarn Regatta and Armathwaite.
In 1860 he won the famous Carlisle Wrestling All-Weights Championship for the first five times. In 1861, he won the London, Cumberland & Westmorland style wrestling for the first of five times inside ten years. He also beat his greatest rival, Longtown gamekeeper, Dick Wright, four times in one day at Newcastle. From that time, until his retirement sixteen years later, he held undisputed sway in every wrestling ring.
When he settled in Penrith at the former Sun Inn in Little Dockray, he issued a challenge to the world at wrestling but it was never taken up. In 1870 he and Wright figured in an international match with two French wrestlers, Le Boeuf and Dubois, in London, in the respective national styles. There is also a record of a match on Penrith bowling green in 1876 between Jameson and a French wrestler.
Jameson took over the Griffin Inn Cornmarket (north-side) in 1873, as tenant and later bought the premises for £1,280. It had ceased to be an inn when he died there in 1888. The old champion is buried in Penrith Cemetery, where a marble-on-sandstone pillar marks his grave.
He won many trophies in his career and the Penrith Museum collection comprises nine belts, half a dozen silver cups, and three wrestling medals.
The collection was given to the Museum in 1952 by Mr J W Jameson of Eamont Bridge.
Last updated: Thursday, 22 September, 2022.