Find and contact the Museum
Penrith and Eden Museum is next to Penrith Tourist Information Centre. They are both in the former Robinson's School building on Middlegate, Penrith. The Museum is a short walk from Penrith Town Centre, the Bus Station, Penrith Blue Bell Lane car park and a slightly longer walk from Penrith North Lakes Railway Station.
Address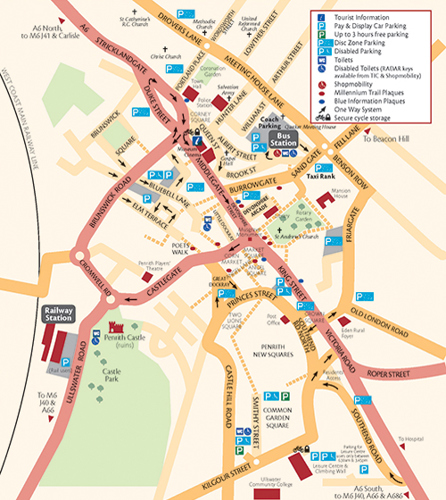 Penrith and Eden Museum, Robinsons School, Middlegate, Penrith, Cumbria CA11 7PT
Directions to the museum
On foot from Penrith town centre:
The Museum is just a few minutes walk from the centre of Penrith.
Follow King Street (heading past the George Hotel on your right) and onto Middlegate.
Continue along Middlegate and you will see the Tourist Information Centre and Penrith and Eden Museum on your right.
By public transport:
By bicycle:
By car:
Disc zone parking is available on-street. Parking is for 1 to 2 hours around the streets of Penrith. Disc available from local shops and businesses.


Play and display car parks for longer stay parking.
Sainsbury's offers 3 hours free parking in its car park
Penrith town centre map:
To help you find us, view the Penrith Town Centre map. The Museum can be found by the information 'i' symbol.
Access:
Access to the Museum is through Penrith Tourist Information Centre.
Find out about level access to the museum for wheelchair, buggies and anyone who finds it difficult to go up and down steps.
Contact the museum
Penrith and Eden Museum curators are responsible for the day to day running of the museum. You can contact them, on weekdays, using the details below: