Wasps
How to tell the difference between wasps and honey bees?
Wasps' markings are blacker than a honey bee. The bands around their middles have distinctive points, pointing towards their tails. Honey bees are the same size as wasps, but the bands around their middles are straight.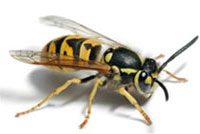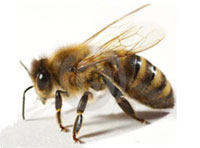 Getting rid of a wasps' nest at your home
We can arrange for the wasps' nest to be treated at a domestic property by our pest control contractor. This work is undertaken at a reduced rate but there is still a charge of £43.98 for this service.
Do I need to be there when the wasps' nest is removed?
Our pest control contractor will need to gain access to your home if the wasps nest is indoors, or in any area they can't readily access.
Arranging a wasps' nest treated appointment
Request pest control treatment online
How long does it take to treat the wasps' nest?
It takes about 30 to 45 minutes to treat a wasps' nest.
When can I remove the wasps' nest?
Our pest control contractor will give appropriate advice during the visit. However, wasps' nests should be left after they have been treated for at least a week to ensure all the wasps are dead.
Will wasps use the nest next year?
No, a wasps' nest is seasonal and will not be re-used.
Last updated: Monday, 15 August, 2022.