Penrith Castle Park
Penrith Castle
Penrith Castle Park takes its name from Penrith Castle, which is a prominent feature of the park. It was built as an addition to the original Pele tower. This was over a 70 year period from 1399. It became a Royal fortress for Richard, Duke of Gloucester. English Heritage maintain Penrith castle and moat area.
Find out about the history of Penrith Castle on English Heritage's website.
War memorials
Other prominent features of the park are its war memorials. The War Memorial Gateway opened in 1923, is the main entrance to the park and is opposite Penrith Railway Station. And the Black Angel Memorial, which is dedicated to those who lost their lives in the Boer War. It was moved to the park from Corney Square, Penrith, in 1964. This was because of concerns that it was being damaged by traffic pollution.
Castle park gardens
The park is attractively laid out with annual flower beds, mature trees and grassed areas. It is ideal for a stroll or a picnic. Dogs are allowed in Castle Park as long as they are kept on a lead.
Castle park facilities
The facilities in the park include:
A children's play area;
Putting and obstacle golf;
Tennis courts;
Bowling green;
Toilets;
Café; and
A bandstand.
Castle Park Bowling Club look after the bowling green, the use the green on Tuesday and Thursday evenings for competitions, on those evenings the bowling green is not available for public use.
Charges for games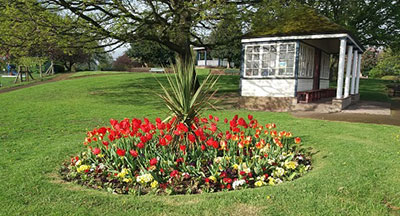 Games facilities are to open on the 1 April 2023.
The charges below are per person.
Tennis: currently unavailable while under development.
Putting: Adult £2 and Juniors £1 an hour.
Obstacle golf: Adult £2 and Juniors £2 an hour.
Bowls: £2.60 per person.
Please pay for games and equipment hire at the games hut which is open from 10am - 7pm, 7 days a week. Unfortunately at this time, we are unable to take card payments. Cash only.
We provide golf clubs for the use on the putting green and obstacle gold course and bowls for the use on the bowling green.
Opening times for gates
29 March - 19 September: 7.30am to 9pm or dusk.
October - 28 March: 7.30am to 4.30pm or dusk.
Access to the park
There are pedestrian entrances from Ullswater Road, Castle Drive and Castle Terrace. Disabled visitors can access the park area from the Ullswater Road entrance. This is opposite Penrith Railway Station.
Parking
Parking and disabled parking is available outside the Castle Park on Ullswater Road near to the War Memorial gateway.
Find out about Penrith car parks for details of other places to park.
Transport
Find out about public transport in Eden for details of trains, buses and taxis are available at Penrith Railway Station, which is opposite the War Memorial gateway to the park.
Park events
We welcome enquiries from organisations and individuals wishing to hold events in its parks. Events held to date include:
Open air church services;
Tennis tournaments;
County bowls competitions;
Music from bands;
Theatre productions;
Sponsored toddles; and
School visits.
Refreshments
During the summer months the park kiosk is open for hot and cold food, drinks and ice creams.
Last updated: Monday, 3 April, 2023.