Dog fouling
Most dog owners are responsible and clean up after their pets, but a small number continue to cause problems. Dog fouling is a health risk to all people and can cause the infection 'Toxocariasis' which can lead to blindness. It can also transmit infections and diseases to other animals.
The Fouling of Land by Dogs (District of Eden) Order 2008 designates areas of land where owners must pick up after their dogs, or face a fixed penalty notice of £100. Alternatively, a dog owner could be prosecuted in the Magistrates court and the fine could be increased up to £1,000.
See Dog Control Public Spaces Protection Orders for more details.
When you walk your dog, be sure to take poo bags with you, the same as you would remember a lead. Please note, rain does not wash the problem away.
You can put bagged dog waste in: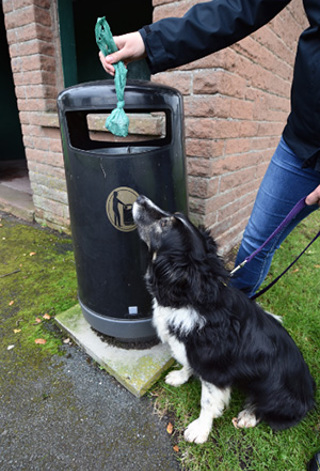 a litter bin;
your own blue refuse bag at home.
See the location of litter bins on our online mapping.
See location of dog waste bins on our online mapping.
Report a litter bin problem online to tell us of any issues.
It is every dog owner's duty to clean up after their dog. Do not give all dog owners a bad name.
Report dog fouling
To be able to act on a dog fouling report we need:
Name and address of the dog owner.
Description of the dog(s) and what you saw (including the date and time).
Exact location of the incident.
Report dog fouling online to tell us of any issues you see.
Request an area to be cleaned
You can use this form to alert the Council of a dog fouling problem on a well used route, such as the pavements around a school. Dog fouling is more likely to be removed sooner using the form below:
Last updated: Thursday, 28 September, 2023.