Food hygiene rating scheme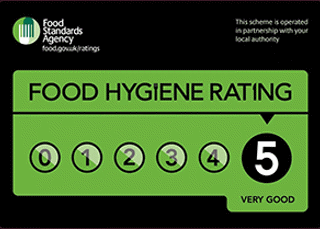 The Food Hygiene Rating Scheme is a local authority / Food Standards Agency (FSA) partnership initiative. The scheme provides consumers with information about hygiene standards in food premises at the time the local authority food safety officer inspected them. Inspections check compliance with legal requirements - the food hygiene rating given reflects the inspection findings. The purpose is to allow consumers to make informed choices about the places where they eat out or shop for food thereby encouraging businesses to improve their hygiene standards.
Find out about the Food Hygiene Rating Scheme on the FSA website.
Once you receive your food hygiene rating
Read making the most of your business on the Food Standards Agency website, which explains about the toolkit to help food business get the most out of their food hygiene rating.
Food Standards Agency (FSA) publishing the ratings on their website, approximately three to five weeks after the business receives the rating. However the business may request they publish the rating before this.
See food hygiene ratings for businesses on the FSA website for details on the food hygiene rating scheme, making an appeal, publishing a response to a hygiene rating and requesting a re-inspection.
A window sticker showing the rating will be issued to the business, which they are encouraged to display prominently.
Search food hygiene ratings in Eden area on FSA's website, to find out the ratings for a particular business.
I don't agree with my food hygiene rating
In order to ensure that the scheme is fair to businesses, it has been designed to include a number of safeguards. These are: an appeal procedure; a 'right to reply'; and an opportunity to request a revisit when improvements have been made in order to be reassessed for a 'new' rating. For information for food businesses about these different safeguards see below.
Last updated: Monday, 20 June, 2022.