Museum's exhibition celebrates work of Cumbrian artist Lorna Graves
Lorna Graves: Memories of Belonging at Penrith and Eden Museum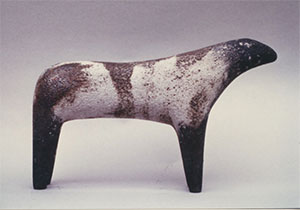 Penrith and Eden Museum is opening its doors for a new exhibition 'Lorna Graves (1947-2006): Memories of Belonging'. The display celebrates the work and life of Lorna Graves, a widely recognised 20 century Cumbrian artist and her relationship to the Eden landscape.
Her work concentrated on symbolic and archetypal themes: the Pennine woman, animals and standing stones. These are the focus of the exhibition which looks at her working process and her life in this part of Cumbria. It brings together archival material and objects from Tullie House Museum and Art Gallery and several private lenders to capture Lorna's all-too-brief career.
Penrith and Eden Museum's Joint Curator, Corinna Leenen said: "It is exciting to finally see all of the different objects brought together in one display and to acknowledge the work of such an important Cumbrian artist. The new exhibition is open now and will run until 1 June 2018. The biography of Lorna Graves 'Winter Flowers, The Life and Work of Lorna Graves 1947-2006', written by Clare Crossman, is also on sale during the exhibition." 
Entry to Penrith and Eden Museum is free. For more information about events and exhibitions visit www.eden.gov.uk/museum
ENDS
Notes to Editors
Background information on artist Lorna Graves:
Lorna Graves (1947-2006) was a Cumbrian artist noted for her Raku fired symbolic sculptures of animals and sleeping female figures. Graves' aim as an artist was to produce work of great simplicity imbued with a sense of calm and serenity and the essence of life itself. Her work is deeply rooted in our locale, and the outline of Cross Fell, close-by fields and cattle can be discerned in much of her output.
Graves has a profound feeling for the spiritual connections between humans and the Eden Valley landscape. This, and her interest in prehistoric monuments and ancient civilisations are continuous themes in her work. Scandinavian, Celtic and Anglo-Saxon carvings, and the Bronze age stone circle at Little Salkeld, Long Meg and her Daughters, inspired Graves' visual vocabulary. One of Eden's most acclaimed modern artists, her life and artistic career were tragically cut short by breast cancer.
Her artistic career had two distinct phases. The first was in 1979 when Graves enrolled at Carlisle College of Art to study fine art and became interested in working intuitively and responding to materials in her own way. She created a series of Land Art, earth-sculpted Shrines built alongside Hunsonby Beck, and she developed ideas of the shape and concept of 'enclosure' and 'fields' in her drawings. From the late 1980s through to 2006, Graves' work focused on the elemental forms of animal, woman, temple, bird, boat and vessel which she developed in a variety of media, especially Raku fired ceramic. Graves was starting to achieve national recognition just before her death. She won awards, notably the Oppenheim-John Downs Memorial Trust Award in 2001, and her work entered many public and private collections.