Don't delay Register to Vote today - Local Elections May 2019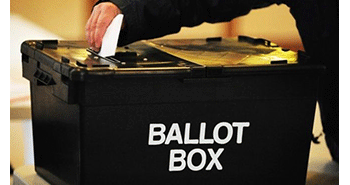 Elections are being held in Eden District in May 2019 to contest seats on local councils. To take part in these elections you must be registered to vote by the 12 April 2019. If you have recently moved house or are 18 years old and are not yet registered to vote you can do this easily online. If you don't have access to the internet you can collect or request an application form from Eden District Council's Elections Office at Penrith Town Hall.
How to Register to Vote
You only need to register once - you do not need to register separately for every election. You can do this at www.gov.uk/register-to-vote You must register again if you've changed address, name or nationality.
To register to vote you must be 18 years old or over, a British, Irish, Commonwealth, or European Union citizen. You will need your National Insurance Number to register to vote.
Local Elections 2019
Postal voting
Postal voting can be used if you cannot get to your polling station. You may apply for a postal vote at any time, as long as you are registered to vote. Postal votes are usually issued about ten days before an election. Completed ballot papers must be returned by 10pm on election day. All applications for postal voting for the May 2019 Local Elections must be returned to the Elections Office at Penrith Town Hall by 5pm on Monday 15 April 2019.
Proxy Voting Proxy voting means that if you are not able to cast your vote in person, someone you trust can do it on your behalf. Only a registered voter can apply for a proxy vote. Only a registered voter can vote by proxy on their behalf.
A person cannot be a proxy for more than two people at any one election, or referendum, unless they are a close relative. If you apply for a proxy vote for a particular election, you do not need anyone to support your application, but you do need to give a reason, for example, holidays, illness, employment.
If you wish to have a proxy vote for a specific period of time, or permanently, you need to give the reason and ask someone, for example, your doctor, nurse, or employer, to sign your application. All proxy vote applicants must supply their signature and date of birth on the application form.
New proxy voting applications
Anyone wishing to apply for a proxy vote for the Local Elections in May 2019 must return their application form before the 5pm deadline on Wednesday 24 April 2019 to the Elections Office at Penrith Town Hall.
Postal proxy voting applications and amending existing proxy or postal voting
Proxy voters wanting to vote by post, must have applications returned to the elections office at Penrith Town Hall by 5pm on Monday 15 April 2019. Anyone wanting to change the details of their existing postal or proxy vote must also have that information with the Elections Office by this date also.
For more information about voting and the Local Elections in May 2019:
Visit Eden District Council's website.
Email: elections@eden.gov.uk
Telephone: 01768 817817
Write to: The Elections Office, Eden District Council, Town Hall, Corney Square, Penrith, Cumbria CA11 7QF.