Build your Home, Build your Community event
In partnership with Andy Lloyd (National Community Land Trust Network), we are holding a free self-build, custom-build and community-led housing event. This event is for prospective self-builders and community builders and is at 6pm on Thursday 4 July 2019 at the Rheged Centre, Redhills, Penrith.
See how to get here on the Rheged website.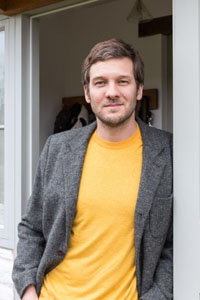 There will be a number of exhibitors and presentations, with Charlie Luxton, presenter of Building the Dream, Homes by the Sea and Homes by the Med (More 4) being our keynote speaker.
See Charlie Luxton Design website.
At 6pm the event opens allowing an hour to network with industry professionals prior to a series of brief presentations starting at 7pm. There will be exhibitions and advice from:
Andy Lloyd, National Community Land Trust Network Technical Advisor
ACT Cumbria and Lancaster Community-led Housing Hub
Atkinson Building Contractors
2030 Architects
JIW Properties
LoCal Homes
Penrith Building Society
Thomas Armstrong - kit systems
Ecomotive
Unity Trust Bank
Hyde Harrington
Manning Elliott
PFK
Green Footsteps
Ecological Building Systems
Eden District Council - Officers from Planning, Building Control  and Community-led Housing
And presentations from:
Charlie Luxton, architectural designer, writer and TV presenter
ACT Cumbria and Lancaster Community-led Housing Hub
Patterdale Community Land Trust / Eden Housing Association partnership
Lancaster Forgebank Co-housing
Ecomotive, a social enterprise supporting group projects with an emphasis on sustainability and affordability
Rod Hughes from 2030 Architects
Rob Jerams from LoCaL Homes, a not-for-profit advanced housing manufacturer, offering high performance, low carbon housing solutions
Bruce Armstrong-Payne, local self-builder and Planning Consultant
Michelle Stevens from Penrith Building Society.
Register for self-build and custom-build event. As places are limited, we are asking prospective self-builders and community builders to pre-register. Alternatively, contact Planning Policy to confirm the number of places and names of attendees.
If your company provides goods and services which may be of interest to self-builders and would like to exhibit at the event please email: andy@communityhousingprojectdevelopment.uk
Andy Lloyd is a community housing adviser to the National Community Land Trust Network. He provides technical support to communities and local authorities in the Penrith area, helping to deliver community owned affordable housing projects, such as:
Lyvennet Community Trust in Crosby Ravensworth
Keswick Community Housing Trust
Lune Valley Community Land Trust in Halton, Lancashire
Community-led housing includes self-build, co-housing, co-operative housing, self-help housing and community land trusts (CLTs). This housing enables communities to become active players in their own sustainable development.
Visit the Community Led Homes website to read more
Andy is helping us to create an event where people can hear from professionals, companies and individuals to help them plan their own exciting projects.
We are required to maintain a Self-build and Custom-build Housing Register of people looking for land in our area on which to build their own homes.
Read more about the Self-build and Custom-build Housing Register.