Crosby Ravensworth conservation area
Designation of Crosby Ravensworth Conservation area
The central part of Crosby Ravensworth village was designated as a conservation area on 16 June 1994.
Description of Crosby Ravensworth
Crosby Ravensworth is situated in the Lyvennet Valley with the Dalebanks Beck flowing through the village to join the Lyvennet Beck. The village is surrounded by open fells and has many prehistoric sites and ancient burial mounds close by. Crosby Ravensworth fell is a Site of Special Scientific Interest and part of the 'Asby Complex' Special Area of Conservation. The nearby prehistoric settlement of Ewe Close is believed to date from the iron-age and occupied since Roman times. The Parish Church of St Lawrence is a Grade I Listed Building and contains work of various architectural periods and several interesting tombstones and crosses in the graveyard.
Crosby Ravensworth conservation area plan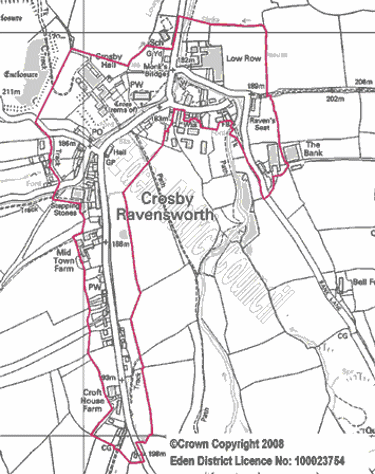 Related links