Loft conversions
Fire safety
This fire safety guidance can only be followed whenever:
The roof of a two storey house is altered to form a third storey in the roof without raising the ridge line.
The new room(s) formed do not exceed 50m2
No more than two habitable rooms are created in the loft space
The requirements:
Staircases which terminate in lounges, and so on (that is 'open plan' arrangements) must be closed off using 30 minute fire resisting walls leading to an external door.
All existing doors to habitable rooms and cupboards (not bathrooms and WC's) which give access to or open onto the staircase must be fitted with rising butt hinges or self closing devices. Cracked or poorly fitting doors must be repaired or replaced.
An emergency egress window must be provided from the new room(s), a door to a roof terrace is also acceptable. (See diagram opposite). The escape window/door must be accessible by a ladder at ground level.
The new loft rooms must be separated from the stair by a 30 minute fire resisting partition and the new door(s) must be FD20, fitted with intumescent strips and rising butt hinges or self-closing device.
The existing first floor ceiling is to achieve 30 minutes fire resistance or be upgraded.
Mains operated smoke detectors to BS5446 must be fitted. There must be at least one detector per floor level, all linked together and installed strictly to the manufacturer's recommendations.
Existing non fire resisting walls (for example: timber boarding) must be upgraded to 30 minutes fire resistance.
Any new or existing glazing in doors/walls to the staircase must give 30 minutes fire resistance. This can be achieved by using either Georgian wired or other specialist glass.
Note: Emergency egress windows must have an unobstructed openable area of at least 0.33m2 and at least 450mm high or 450mm wide. Either the manufacturers childproof safety catch or a 100mm restrictor mechanism should always be fitted when the bottom of the window is less than 900mm above floor level.
a. Dormer window
The window may be in the end wall of the house, instead of the roof as shown.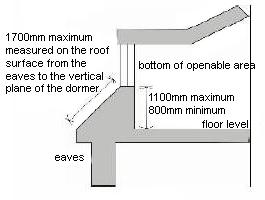 b. Roof light or roof window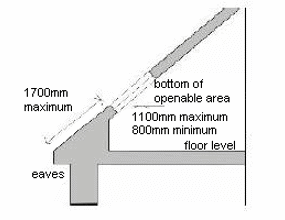 Thermal insulation
Loss of heat through wall and roofs must be restricted. Current requirements set a maximum heat loss value of 0.18 W/m2K for the roof and 0.30 W/m2K for the walls. Windows and roof lights are to achieve a U value of 1.6 W/m2K.
Reducing condensation
To reduce the amount of condensation build-up in the roof to a minimum:
Provide a minimum 50mm air gap above the insulation material to allow air circulation.
Provide continuous 5mm air gap (or equivalent) ridge vents or high level tile/slate vents.
Provide continuous 25mm air gaps (or equivalent) at eaves to allow for air entry.
Stairs
Ensure a minimum 2m headroom throughout the length of stairs and landings. This may be reduced slightly if agreed beforehand with Building Control.
Ensure no more than 3 winders are formed in the space occupied by a quarter space landing.
Ensure max pitch is 42 degrees, working to minimum goings of 220mm and maximum risers of 220mm.
Ensure no gaps in stair or guarding greater than 100mm. Guarding must not be climbable.
Ladders and alternating treads stairs
Must only be used as a last resort when a normal stair cannot be used and can only service a single habitable room.
Ensure handrail to both sides.
Ensure surface of treads are non slip (ie not varnished).
Must only be in straight flights.
Sound insulation
The new floor (or upgraded 1st floor ceiling) must comprise the following:
22mm chipboard or other flooring material (minimum density 15kg/m2).
An absorbent layer of 100 mm of mineral wool (minimum density 10 kg/m3).
Ceiling treatment (minimum density 10 kg/m2).
Structural stability
In most instances it will be necessary to provide additional floor joists and often it is necessary to remove some of the existing roof members to form the space. Because of these facts you are advised to either speak to a Structural Engineer or Building Control at an early stage to agree a solution.
Last updated: Wednesday, 5 October, 2022.