Penrith - A Historical Record in Photographs Book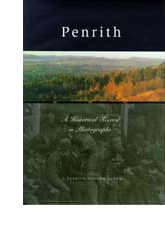 Penrith's proximity to the Lake District and Pennines, and its location at the crossroads linking these areas and the North of England to the Scottish borders, has from the earliest times favoured its growth as a centre of trade, transport and agriculture.
The monuments in and around the town show that Prehistoric settlers, Celts, Romans, Saxons and descendants of Vikings were all drawn here. Later still, Norman barons and feudal chiefs built castles and fortified towers during unstable and violent times when the crowns of England and Scotland fought to retain power.
The culture of the area has been enriched by the lore, legends and language of all these people, giving it a character as distinctive and varied as the landscapes which provide their setting. Many of the town's old yards and buildings are on sites which follow the plan of the medieval settlement, and are rich in associations with notable personalities of the past.
Today, Penrith still retains much of the essential charm and dignity of a historic market town, whilst commercial developments on the outskirts and major new leisure and tourism initiatives nearby bring challenging stimuli for economic growth.
This selection of photographs from the holdings of Penrith and Eden Museum seeks not only to further the interest we have in our past, but is also presented as tribute to the commitment, patience and skill of the area's local photographers.
View a selection of the photographs from this collection.
Order the book: Penrith - A Historical Record in Photographs
Order form for 'Penrith - A Historical Record in Photographs book' (PDF: 26Kb / 1 page)