Holocaust Memorial Day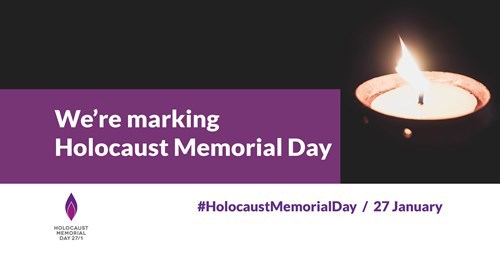 Every year on 27 January, the world marks Holocaust Memorial Day (HMD), which has taken place in the UK since 2001.
On this day we share the memory of the millions of people who were murdered during the Holocaust and subsequent genocides in Cambodia, Rwanda, Bosnia and Darfur in order to challenge hatred and persecution in the world today.
HMD is a time when we seek to learn the lessons of the past and recognise that genocide does not just take place on its own - it's a steady process which can begin if discrimination, racism and hatred are not checked and prevented. We're fortunate here in the UK; we are not at immediate risk of genocide. However, discrimination has not ended, nor has the use of the language of hatred, or exclusion. There is still much to do to create a safer future and HMD is an opportunity to start this process.
What is Genocide?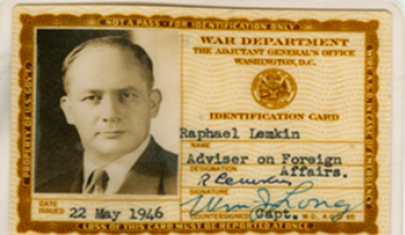 Raphael Lemkin, a Polish lawyer, first devised the concept of genocide in response to atrocities perpetrated against the Armenian population of the Ottoman Empire, which took place between 1915 and 1923.
On 11 December 1946 the General Assembly of the United Nations resolved that genocide was a crime under international law. This was approved and ratified as a Convention on the Prevention and Punishment of the Crime of Genocide on 9 December 1948. The Convention defines genocide as:
'any of the following acts committed with intent to destroy, in whole or in part, a national, ethnical, racial or religious group, as such:
killing members of the group,
causing serious bodily or mental harm to members of the group,
deliberately inflicting on the group conditions of life calculated to bring about its physical destruction in whole or in part,
imposing measures intended to prevent births within the group,
forcibly transferring children of the group to another group.
A number of specific actions have been deemed to be punishable under the Convention. These are:
genocide,
conspiracy to commit genocide,
direct and public incitement to commit genocide,
attempt to commit genocide,
complicity in genocide.
Actions do not need to lead to deaths to be considered to be acts of genocide – causing serious bodily or mental harm or the deprivation of resources such as clean water, food, shelter or medical services can be regarded as inflicting conditions of life calculated to bring about physical destruction. Causing serious bodily or mental harm includes the infliction of widespread torture, rape and sexual violence. It is also a criminal offence to plan or incite genocide - even before the killing starts. This recognises that genocide does not just happen. There is always a path that leads to genocide.
The Stockholm Declaration
Holocaust Memorial Day was created on 27 January 2000, when representatives from 46 governments around the world met in Stockholm to discuss Holocaust education, remembrance and research.
At the end of this meeting, all attendees signed a declaration committing to preserving the memory of those who have been murdered in the Holocaust.
This declaration became the statement of commitment which is still used as a basis for HMD activities today.
Download a copy of the statement of commitment from the HMD website to use in your HMD activity.
Statement of Commitment
The statement of commitment for HMD in the UK was created after the Stockholm Declaration was agreed. It is a simplified version of the Stockholm Declaration, and includes a commitment to remember all victims of Nazi Persecution, and victims of all genocides. Many HMD activity organisers use this by arranging for participants to read from as part of their activity. The statement of Commitment says that:
we recognise that the Holocaust shook the foundations of modern civilisation. Its unprecedented character and horror will always hold universal meaning,
we believe the Holocaust must have a permanent place in our nation's collective memory. We honour the survivors still with us, and reaffirm our shared goals of mutual understanding and justice,
we must make sure that future generations understand the causes of the Holocaust and reflect upon its consequences. We vow to remember the victims of Nazi persecution and of all genocides,
we value the sacrifices of those who have risked their lives to protect or rescue victims, as a touchstone of the human capacity for good in the face of evil,
we recognise that humanity is still scarred by the belief that race, religion, disability or sexuality make some people's lives worth less than others'. Genocide, anti-Semitism, racism, xenophobia and discrimination still continue. We have a shared responsibility to fight these evils,
we pledge to strengthen our efforts to promote education and research about the Holocaust and other genocides. We will do our utmost to make sure that the lessons of such events are fully learnt,
we will continue to encourage Holocaust remembrance by holding an annual UK Holocaust Memorial Day. We condemn the evils of prejudice, discrimination and racism. We value a free, respectful, and democratic society.
Downloaded the Stockholm Declaration from the HMD website, which is available in alternative languages to English.
Watch the UK Ceremony for HMD online
The UK Holocaust Memorial Day 2022 Ceremony is to be streamed online at 7pm on 27 January.
To watch online you need to Register to watch HMD Ceremony on from the HMD website.
At the end of the ceremony, join the nation and Light the darkness. Light a candle and put it in your window (if it is safe to do so) at 8pm on 27 January. To remember those who were murdered for who they were. To stand against prejudice today.
Find an activity
Each year tens of thousands of activities take place across the UK to mark Holocaust Memorial Day (HMD).
Find an activity on the HMD website as they appear on the map as we get closer to Holocaust Memorial Day on 27 January.
Join the conversation about HMD on social media
Tweet and post on Facebook to show how you will mark HMD and share photos of your activity when it happens.
Follow us on Twitter and Facebook and share our content to enable more people to learn about the Holocaust, Nazi Persecution and more recent genocides.
See the resources on the HMD website to download suitable images to use on social media with your tweets and Facebook posts.
Social media can be a fantastic way of raising awareness of HMD, but must be used carefully. Please ensure that your use of social media is sensitive and respectful at all times, including your use of images.
See guidance on how to use images on the HMD website.
Use the HMD hashtags
Bring HMD to the attention of the online community by using HMD hashtags when you tweet about HMD.
Use the below hashtags to help your tweets be seen by more people:
#HolocaustMemorialDay
#LightTheDarkness
Last updated: Wednesday, 18 May, 2022.