Bag and box scheme
Who will get a bag and box collection?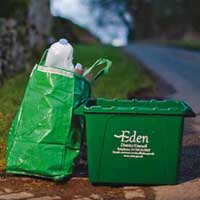 The bag and box recycling collection scheme is available to every household in Eden. Each household is supplied with a sturdy plastic greenbox and two weather-proof canvas bags, along with a calendar of collection dates. Copies of calendars can be found by entering your postcode into My Eden.
Together with Cumbria Waste Recycling, we undertook a scheduled service review of both the bag and box and garden waste collection services. This has resulted in more rounds being introduced to improve the service and to ensure collections are completed on their scheduled day.
What do I put in the bags and green box?
Green box is for recycling glass and cans

One green bag for hard plastics - plastic bottles, yoghurt pots, plastic food trays, tubs, containers.
Do not put plastic bags, cling film or food wrappings in the green bag. We are aware that some plastic containers now have recycling symbols printed on them.  However, as each type of plastic can be used for numerous products, the Council considers it is easier to state what type of products we collect.

One green bag for paper and card.
Please do not mix hard plastics with paper and card in green recycling bags. For extra recycling and larger pieces of cardboard, see additional recycling.
Why do we need to separate our recycling when it appears that glass, cans and plastic are all thrown in together?
Two Velcro lidded bags have been provided to each household to provide sufficient space for the recycled materials now collected at the kerbside. Paper and card are classed as 'fibre' materials and therefore need to be placed into a separate bag. Only plastics are to be placed into the other green bag, where the lid will prevent high winds from dislodging empty containers.
Glass and cans are to be placed into the green box only, as the sharp edges of cans and any broken bottles may cause tears in the green bags and/or cause harm to the collection staff.
Glass, cans and plastics are collected in one half of the collection vehicle and paper/card in the other.
Where and when do I put the bags and box to be collected?
Recycling bags and box should be put on the kerbside or at central collection point by 7am on the day of collection. They will be emptied, weather permitting, by our specially designed vehicles.
What happens if there is a road closure?
When road closures have prevented vehicles accessing your property, collections will be attempted again on the next scheduled collection day. Long term closure arrangements will need to be made by the organisation who is responsible for the road closures.
Can I use my own recycling containers?
No, only green bags and boxes supplied by us should be set out on collection day. Other containers filled with recycling placed out will be assumed to be recycling and taken away to be recycled.
How often will bags and boxes be collected?
Collections will be on a fortnightly basis and you will receive a calendar showing your collection dates. Copies of calendars can be found by entering your postcode into My Eden .
Additional recycling
If you have more recycling than will fit in your bag or box you can put it in a tied carrier bag next to the bag or box containing the same type of recycling. One tied carrier bag only containing either, only paper, only plastics, or only glass and tins. The recycling will be collected.  Carrier bags will be left to be placed into your blue rubbish bag for disposal. 
Larger pieces of cardboard will only be taken if they have been folded and flattened to a size where they can easily be put into the collection bags.
Bag and box scheme issues
I do not have any recycling containers.
My recycling containers have gone missing or been damaged.
The recycling I put our before 7am has not been collected.
Please complete the online bag and box collection problem report form.
I can't take my bags or box to the collection point.
Households where no-one is physically able to put the bags and box on the kerbside, or at a central collection point, may be eligible to apply for an assisted collection.
I have not received my bag and box scheme collection calendar.
A PDF copy of the bag and box scheme calendar is available by entering your postcode in My Eden property postcode search. Links to calendars are shown as numbers under Refuse and Recycling, in the My House section, click on the number to view or download your calendar.
How to apply to be on the bag and box scheme
If you are new to the area, or have just moved into a new property, you will need to be registered to make use of this scheme. Please telephone the number below to register, or to check if you are already on the scheme. If your property is not on the scheme, we can register your interest and let you know when we can make provision for your recycling to be collected.